PASSPORT PHOTO REQUIREMENTS FOR ANGOLA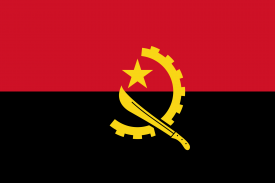 PASSPORT REQUIREMENTS

Required photo dimensions : 35mm x 45mm.
3photos will need to be submitted
Awhite backgroundis needed for your photos
The Applicant should not have braids.
The Applicant should not wear sunglasses.
The Applicant should wear a shirt with collar with or without tie.
In the case of babies eyes must be open
VISA REQUIREMENTS

Head size 29-34mm.
In colour, not black and white.
Free from shadows.
Taken with the eyes open and clearly visible.
With no sunglasses or tinted spectacles.
No hair across the eyes.
With the subject facing forward, looking straight at the camera.
With a neutral expression with the mouth closed (no grinning, frowning or raised eyebrows.
Each person on their own (no objects such as dummies or toys, or other people visible).
Taken with nothing covering the face.
In sharp focus and clear.
With a strong definition between face and background.

Dimensions : 35mm x 45mm.
Number of Photos Required : 1
Background Requirements : light grey or cream background