PASSPORT PHOTO REQUIREMENTS FOR CZECH REPUBLIC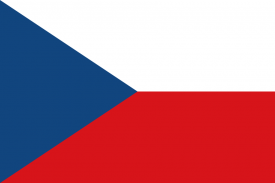 PASSPORT REQUIREMENTS
Required photo dimensions : 50mm x 50mm
1 photo will need to be submitted
A light or neutral background is needed for your photos
The photo should be no more than 6 months old.
Head size (distance between eye & chin) at least 13mm.
Distance between the upper edge of the head and the upper edge of the photo is at least 3mm.
Front view of the applicant, showing head and top of shoulders.
A rotated head is not allowed.
Colour and Black & White photos are both excepted.
The photograph must be in sharp focus and clear.
Must be printed on high-quality paper at high resolution.
The face must be centred and must cover most of the photograph.
The focus may not be too close up or too distant.
The head may not be tilted.
You must look straight to the camera.
Facial expression must be neutral; the mouth must be shut.
Eyes must be open and entirely visible.
Red eyes or shadows on the face are not permitted.
Eyes behind the glasses must be entirely visible, flash reflections are not permitted, neither are tinted glasses.
Headcovers are not permitted except for religious reasons.
Contrasts must be natural; light must be uniform across the whole background.
In the case of babies, the eyes must be open
VISA REQUIREMENTS
Same as Passport photos (see above).
Dimensions : 35 x 45 mm
Number of Photos Required: 1
Background Requirements: light or neutral background