PASSPORT PHOTO REQUIREMENTS FOR TAJIKISTAN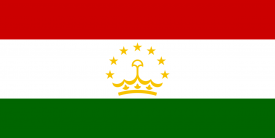 PASSPORT REQUIREMENTS
Required photo dimensions: 35mm x 45mm
4 photos will need to be submitted.
A white background is needed for your photos.
Face should take up between 60% - 70% of the image.
The photo must clearly show the person's facial features in a straight forward position.
In the case of voluminous hair, it must be ensured that the head (including the hairstyle) is fully depicted without reducing the size of the face, if possible.
No more than six months old, to ensure an up to date likeness.
You need to take the photo with a neutral expression
The face must be evenly illuminated by the flash on the camera. Reflections or shadows on the face as well as red eyes must be avoided.
The photo should be printed on high-quality paper with a print resolution of at least 600 dpi (especially when taken with a digital camera).
Photos must be in colour.
Glasses are to be removed for the photo.
Head wear is not permitted. Exceptions are possible, especially for religious reasons.
In the case of babies, eyes must be open.
VISA REQUIREMENTS
Same as the passport (see above)