PASSPORT PHOTO REQUIREMENTS FOR UZBEKISTAN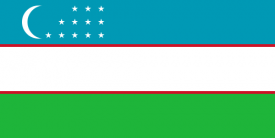 PASSPORT REQUIREMENTS
Required photo dimensions: 35 x 45 mm
4 photos will need to be submitted
In colour on plain white photographic paper with no border.
Clear and in focus.
Without any creases or tears.
Unmarked on both sides (unless a photo needs to be countersigned).
Be a close-up of your full head and upper shoulders.
Be facing forward and looking straight at the camera.
Have a neutral expression and your mouth closed.
Have your eyes open, visible and free from reflection or glare from glasses.
Not have hair in front of your eyes.
Not have a head covering (unless it's for religious or medical reasons).
Not have anything covering your face.
Not have any shadows on your face or behind you.
Child passport photo size: 30x40mm (One photo required)

VISA REQUIREMENTS
Same as passport (See above)
Dimensions : 35 x 45 mm
Number of Photos Required: 2