PASSPORT PHOTO REQUIREMENTS FOR CYPRUS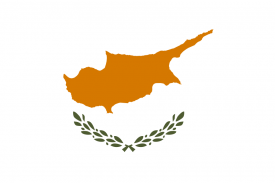 PASSPORT REQUIREMENTS
Required photo dimensions : 40mm x 50mm
4 photos will need to be submitted
A plain light background is needed for your photos
The Photos should be no more than 6 months old.
The photos should show a close up of your face and the top of your shoulders so that your face takes up between 70% and 80% (between 32-36mm) of the frame.
The head must be centred.
You must look directly at the camera.
No hair across face or eyes as eyes must be clearly visible.
Make sure facial features are clearly visible, from the bottom of your chin to the crown of your head.
Don't tilt your head up/down or left/right.
Do keep your facial expressions neutral (no raised eyebrows, frowns).
Do keep both eyes open and your mouth closed. Don't smile.
Do wear glasses (if normally worn) but make sure there's no reflection on the lenses and the frames don't obscure eyes.
Don't wear sunglasses or glasses with tinted lenses, unless they're prescription.
Don't wear a head covering unless it's for religious reasons.
Don't wear a hairband.
Don't wear a uniform, civil or military.
Photos must be in sharp focus and correctly exposed.
Shadows from the head must not appear in the background.
Good colour balance and natural skin tones are essential.
'Red eye' in photographs is not acceptable.
A clear contrast is needed between facial features and background.
Photos must be printed on photo-quality paper at a high resolution.
There should be no ink marks or creases.
Digital enhancements or changes are not acceptable.
The reverse of the photos must be white and unglazed.
Black and white photos are recommended as they're digitally printed onto the passport in black and white. But colour photos are also acceptable
In the case of babies, the eyes need to be open
VISA REQUIREMENTS
The photos must be no more than 6 months old.
No uniforms to be worn.
Must be Taken with a Natural expression with mouth closed.
Should be Taken with you Looking straight at the camera.
Dimensions : 35mm x 45mm.
Number of Photos Required: 4
Background Requirements: plain light background