PASSPORT PHOTO REQUIREMENTS FOR LEBANON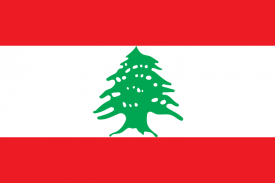 PASSPORT REQUIREMENTS
Required photo dimensions: 35mm x 45mm.
2 photos will need to be submitted
A white background is needed for your photos
The height of the head (top of hair to bottom of chin) should measure 25 to 35 mm.
Eye height is between 29 to 35 mm from the bottom of the photo.
Front view, full face, open eyes, closed mouth, and neutral expression.
Full head from the top of hair to shoulders.
Plain white or off-white background.
No shadows on the face or in the background.
No sunglasses (unless it's for medical purposes), but those normally wearing corrective glasses must wear such glasses.
No hat (unless it's for religious purposes).
Normal contrast and lighting.
In the case of babies, eyes must have eyes open.
VISA REQUIREMENTS
Same as passport (see above).
You can upload a digital passport photo to the Global Service Order Form when you place your order, instead of providing physical passport photos
Dimensions : 50 x 50 mm
Number of Photos Required: 2