PASSPORT PHOTO REQUIREMENTS FOR MACEDONIA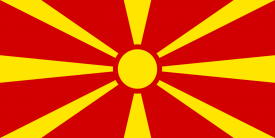 PASSPORT REQUIREMENTS
Required photo dimensions: 50 x 50 mm
2 photos will need to be submitted
To be taken against plain colour or white background is needed for your photos
Full face, front view.
The photos must be identical.
The photos must have been taken within the last six months.
Photographs retouched so that your image is changed are unacceptable.
No hats unless for religious or medical reasons.
Wear normal day-to-day attire.
Do not wear uniforms.
Glasses must not be worn.
In the case of babies, eyes must be open.
VISA REQUIREMENTS
Same as passport (see above)
Dimensions : 35mm x 45mm.
Number of Photos Required: 1
Background Requirements: white background

ELECTRONIC VISA APPLICATION REQUIREMENTS
If an electronic photo is required the image needs to be:
JPEG format.
300 dpi resolution