PASSPORT PHOTO REQUIREMENTS FOR MALDIVES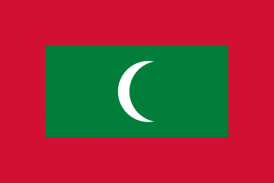 PASSPORT REQUIREMENTS
Required photo dimensions: 45 x 35 mm
2 photos will need to be submitted
A plain white background is needed for your photos
Taken within the last month.
No creases and not be damaged by staples, pins, paperclips, folding, ink marks or pen indentations.
Be a close up of your head and top of your shoulders so that your face takes up 70-80% of the photograph.
Show your skin tones and colour naturally (please do not retouch digital photographs in any way).
Be taken so that an imaginary horizontal line between the centres of the eyes is parallel to the top edge of the picture.
High-quality colour (black and white photos are not acceptable).
Show a neutral expression with the mouth closed (not grinning, laughing or frowning or raised eyebrows).
Show the eyes open and clearly visible.
VISA REQUIREMENTS
Same as passport (See above).
Dimensions : 35 x 45 mm
Number of Photos Required: 2