PASSPORT PHOTO REQUIREMENTS FOR MEXICO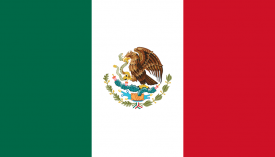 PASSPORT REQUIREMENTS
Required photo dimensions: 35 x 45 mm
4 photos will need to be submitted
A white or light-coloured uniform background is needed for your photos
Head size between 30-36mm.
No Hats or Glasses to be worn.
Both ears must be shown.
Without glasses.
No earrings or necklaces.
No smiling, frowning or teeth cannot show.
Taken within the last month.
Clear and in focus.
You should be looking directly at the camera.
Both ears must be shown
No smile, frown or teeth cannot show
In the case of babies, eyes must be open.
VISA REQUIREMENTS
3 photos are required. 2 face-on and 1 profile.
The photo must have been taken within the last 30 days.
The forehead and ears must be clearly visible.
Unedited image.
Must be well lit and in focus.
No earrings or visible piercings are allowed.
No hats or hairbands.
Dimensions : 25 x 30 mm
Number of Photos Required : 3
Background Requirements: white background preferred but grey & off-white are also acceptable