PASSPORT PHOTO REQUIREMENTS FOR NEW ZEALAND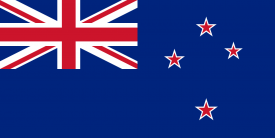 PASSPORT REQUIREMENTS
Required photo dimensions: 45 x 35 mm
2 photos will need to be submitted
A light-coloured background required (not white) is needed for your photos
Full colour
Photo must be less than 6 months old
Head centred with a clear gap around the sides and top of the head, including hair
The maximum size of the head, including hair, must be 75% of the photo
True image must not be altered in any way
In focus, with no red-eye and no reflected light on the face
The background must be plain and light coloured
A strong contrast between image and background
No shadows
Head straight to the camera
Eyes open
Mouth closed
A neutral expression, not smiling or frowning
No hair across your face or eyes as eyes must be clearly visible
No headbands, or head coverings
Eyes must be clearly showing through glasses, with no reflection
No glasses with heavy-rimmed frames
No sunglasses, or glasses with tinted lenses that obscure your eyes
In the case of babies, eyes must be open
Photo must be less than 6 months old
Technical requirements
For our online passports system, the photo must be
a portrait photo with a 4:3 aspect ratio
in jpg or jpeg format
between 250KB and 10MB
between 900 and 4500 pixels wide and 1200 and 6000 pixels high
Scanned photos are not acceptable for our Online Passport Service.
For paper photos you will need:
2 identical photos, printed on photo quality paper
35mm x 45mm in dimension

UNACCEPTABLE PHOTOGRAPHIC PAPER REQUIREMENTS
Extremely high gloss papers should not be used.
Inkjet Printers should NOT be used.
Heavily backed thermal papers that crack easily in transport should not be used.