PASSPORT PHOTO REQUIREMENTS FOR OMAN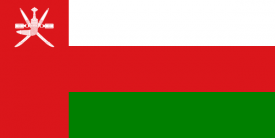 PASSPORT REQUIREMENTS
Required photo dimensions: 40 x 60 mm
3 photos will need to be submitted
A blue background is needed for your photos
Males need to be dressed in national dress (Dishdasha and Turban).
Children below the age of (15) fifteen years old are exempted from wearing the Turban and the Dishdasha.
Must be a colour photo.
Will need to be high resolution.
Taken within 6 months of application.
Directly facing camera.
Wearing of headdress for religious reasons is allowed providing it in no way covers the face.
Glasses are not allowed to be worn.
In the case of babies, eyes can be closed.
VISA REQUIREMENTS
Same as passport (see above)
Dimensions : 51 x 51 mm
Number of Photos Required: 2