PASSPORT PHOTO REQUIREMENTS FOR SOUTH KOREA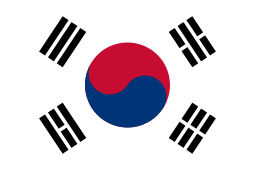 PASSPORT REQUIREMENTS
Required photo dimensions: 35 x 45 mm
2 photos will need to be submitted
A white background is needed for your photos
The photos should be no more than 6 months old.
The size of the face from chin to top of the head should be approximately 25 x 35 mm.
Front view of head.
Hats, headgear & Sunglasses not allowed.
In the case of babies, eyes must be open.
VISA REQUIREMENTS
The photos must be identical and must have been taken within the last six months.
Photographs retouched so that your image is changed are unacceptable.
Do not wear a hat unless for religious reasons.
Wear normal day-to-day attire.
Do not wear uniforms.
The photo should show full face from a front view.

Dimensions : 35mm x 45mm
Number of Photos Required: 1
Background Requirements: pale colour or white background