PASSPORT PHOTO REQUIREMENTS FOR TURKEY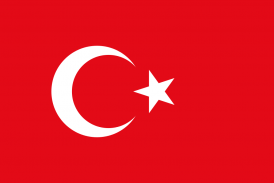 PASSPORT REQUIREMENTS
Required photo dimensions: 50 x 60 mm
1 photo will need to be submitted.
A white background is needed for your photos.
Taken within the last six months, and a good likeness.
Printed on high quality photographic paper.
Untrimmed and a colour photo.
The applicant must face the camera directly.
The head must not be turned and must be centered in the frame.
Head coverings are acceptable only for religious reasons.
The applicant's face and ears must be completely exposed.
The head from chin to top of head should measure between 2 and 3 cm with eye level between 3 and 3.5 cm from bottom of photograph.
In the case of babies, eyes must be open.
VISA REQUIREMENTS
Head size should be at least 50%.
Head coverings for religious reasons only.
NOTES
e-visa is now available from the Turkish Government Website, e-visa allows them to order a visa for Tourism or Commerce use online without the need of a photo. For work or study a regular Visa will be required.

Dimensions: 50mm x 50mm
Number of Photos Required: 1
Background Requirements: white background